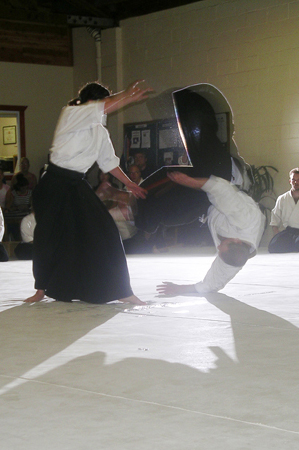 Arlene Mendibles, 3rd Dan Aikikai
(3/7/1983)
Mendibles Sensei opened Henderson Aikido in 2009 and has been actively building and advancing the dojo ever since. She has a B.F.A. from UNLV, is a Certified Yoga Instructor, Certified Personal Trainer and a Spartan. She is always looking for ways to support her students, teachers, friends and family by using movement and Aikido as a way to build peoples confidence, physical ability, relive stress and provide an opportunity to learn.
Her goal is to continue to find a way to share and develop higher levels of Aikido and positive conflict resolution. As well as, continue to move and share her love of Aikido, movement, health and wellness with everyone she encounters on and off the mat.
A little more about Mendibles Sensei...
Since she was a small child she had an obsession with the Teenage Mutant Ninja Turtles, comic books and was a natural athlete. Mendibles Sensei was enrolled in martial arts, gymnastics and many different sports at very young age. As a younger child her passion for martial arts was not easily attainable so her focus shifted to team sports where she excelled and competed extensively until graduating from high school when the opportunity to pursue martial arts arose once more. Feeling burnt out from years of extremely focused competition she wasn't excited to chose a competitive martial but still had a desire to learn and take part in the traditional system. It was then a friend in her Japanese class in college recommenced Aikido of Reno.
After meeting Salvatore Sensei in 2001, she enrolled officially in 2002 and immediately began in intensive training schedule which included becoming a long term live-in-student. This responsibility included running and planning seminars, focus on beginners, and care of the school, students and the sensei. As well as being personal assistant and partner to Sensei in classes, demos, and seminars.
Encouraged by Salvatore Sensei to prepare for her Dan examinations she made trips to Japan to train and experience of Aikido with high level teachers from Iwama, Osaka, and Tokyo. Upon relocating to Las Vegas/Henderson she was again encouraged by Salvatore Sensei to share her experience, knowledge and love of Aikido with others. Henderson Aikido was built from the encouragement of Salvatore Sensei, teachers, friends, family, students and other loved ones in 2009.