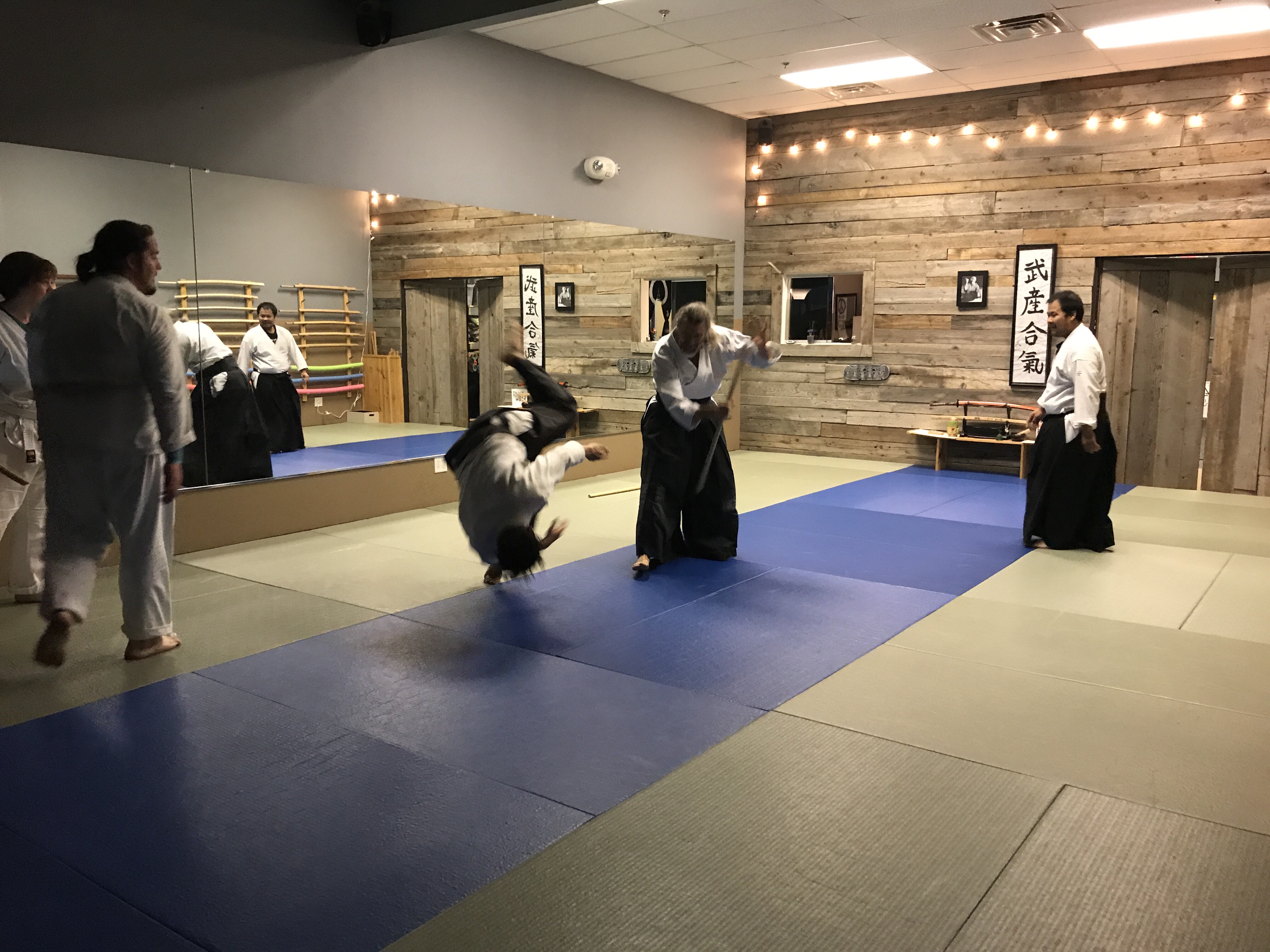 Happy Training to all and to all a good flight.
Howdy!
I have just returned from a great winter workshop at Aikido of Reno and am stoked to get back on the mat. There were great classes, awesome black belt tests and very cool demonstrations. I know I am grateful for our very diverse and inclusive Aikido community, and I hope you are too. Thanks Aikido of Reno for another successful and educational event.
Now on to our stuff, we have a fantastic close of the year going on this month and we can't wait to see you all on the mat. Check it out…
This week…
Continuing our study of Jiyu waza and adventures in Randori!
The focus is on movement and not clashing, for a mutually beneficial result in the dojo.
Principle: Moooovement
Technique: Jiyu waza and Randori
Ukemi: Uke Nage awareness
Weapons: Tachi dori and Jo dori
"The greatness of a man is not in how much wealth he acquires, but in his integrity and his ability to affect those around him positively" ~ Bob Marley
Next week…
All dojo RADs and Demo practices!
We are getting ready for our winter promotions are you ready?! If not that is okay, that is what next week if for, we promise.  Just come in ready to have some fun and learn some things, 'Aiki' things!
We also have our super awesome collaboration with…
The Las Vegas Natural History Museum
Where: 900 Las Vegas Blvd North, Las Vegas 89101
(nearby to Cashman center & the library).
When: Sunday, December 17th from 12-1pm
Whaaaa?!
You see that right we get a whole hour!
Bring your 'A' game demo's Aikidoka it is gonna be good!
Let us know you are joining and demonstrating, by responding to this email with "I'm in!"
The following week… (12/18/17, in case you lost track)
Promotions week is here and ready to close out the year. We are going to have our internal workshop and promotions with a few special twists so don't miss out on this super fun week!
From December, 18th-23rd we will have promotions, student teachers, demos, special guests and more…
And just in case you didn't hear the announcement…
December 23rd we are going out with a bang! This will be our last class of the year and we have some special things planned, so come and close out the year with us!
Dojo holiday closure will be December 24th – January 2nd
Dojo will reopen for regular classes January 3rd, 2017!!