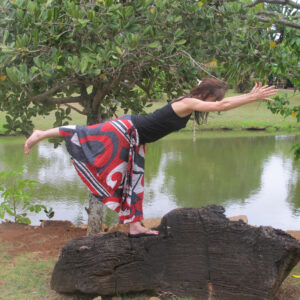 Nita, in 2006 after nearly 2 decades in the corporate world, this free spirit
returned to her roots and began walking the yoga path and never looked back. I am honored to be a yoga guide and thoroughly enjoy being a
student of yoga and life.
Nita is a Yoga Alliance E-RYT 500, Certified Advanced Relax and Renew® Instructor (including assisting Judith Lasater), Certified Children's Yoga Instructor and Certified Yin Yoga teacher as well as 150 hrs of Therapeutic applications with focus on Yoga Nidra, Guided Relaxation and special issues.
Hayley Tope – "A life-long resident of Las Vegas, Hayley Tope is currently the lead Yoga instructor at Henderson Aikido & Yoga. Forever enamored with exercise and athleticism, Hayley has been an active person her whole life. She has alternated between high intensity cardio, kickboxing, running, hiking, archery, and weight training; eventually finding a true passion in yoga. Prior to joining the crew at Henderson Aikido & Yoga, Hayley learned and practiced yoga while honing her teaching skills at All About Yoga in Henderson, NV.
As well as being a Yoga Alliance certified instructor, she is also an ACE certified personal trainer: bringing a dynamic, anatomically-focused aspect to her classes. Both in her own personal practice and in her teaching, Hayley has a deep passion for both Yin Yoga and applying yoga to other athletic fields. In her spare time, she enjoys baking goodies, old movies, hiking off the path, and spending as much time her dog as possible."